Shade trees for your yard
Most of us know that trees provide us with valuable oxygen. They also provide much needed shade in those long hot summers. Take a look around your yard. A shade tree or two can transform your garden area, making it an ideal place to sit and relax. Trees can also transform your property, altering its contours and filling it with bursts of colour. Shade trees are easy to grow too. Plant in the autumn and just keep them well watered in the first couple of years. What are best shade trees for your yard? Actually you are spoiled for choice. Here are six of the best
Paper Birch (Betula pendula)
This tree is known for its white bark which looks stunning in any yard. The trunk sheds its bark in paper thin sheets and looks gorgeous all year round. It grows to 15m-21m with triangular leaves that turn a glorious yellow in the autumn. It requires very little upkeep and provides much needed solar protection in the summer months. Falling leaves and catkins can be a bit of a nuisance in the autumn months but the bare branches allow winter sun into your yard so it's well worth the job of sweeping up.
Jacaranda (mimosifolia)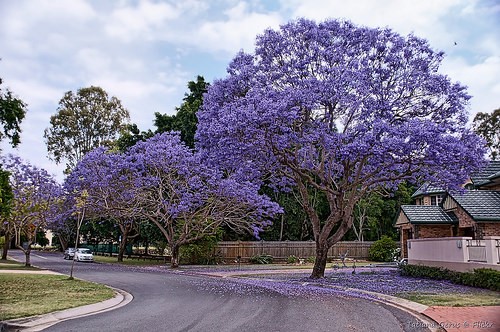 Jacaranda
Most people fall in love with the Jacaranda lined the streets in spring. Originally from Brazil, its superb blue/purple blossom creates a riot of colour and is ideal for your yard. The tree flourishes in tropical and warm temperatures and is hardy enough to withstand harsh summer sun. The Jacaranda reaches a height of around 10-15m and looks great as a single specimen, and because its branches spread outwards, up to 10ms, it's perfect for shade. A word of warning, don't plant too near water pipes and paths as it has a very vigorous root system.
Japanese Maple (Acer palmatum)
If you want shade for your yard then the Japanese Maple is a must. This is a beautiful addition to your garden, but flourishes best away from harsh summer sun. The leaves are quite delicate and can burn. The tree grows to around 6-8m and is great for a small yard providing splashes of red, orange and yellow in the cooler weeks before winter. It has a shallow root system so flourishes best in moist soil.
Golden Ash ( Fraxinus excelsior 'Jaspidea')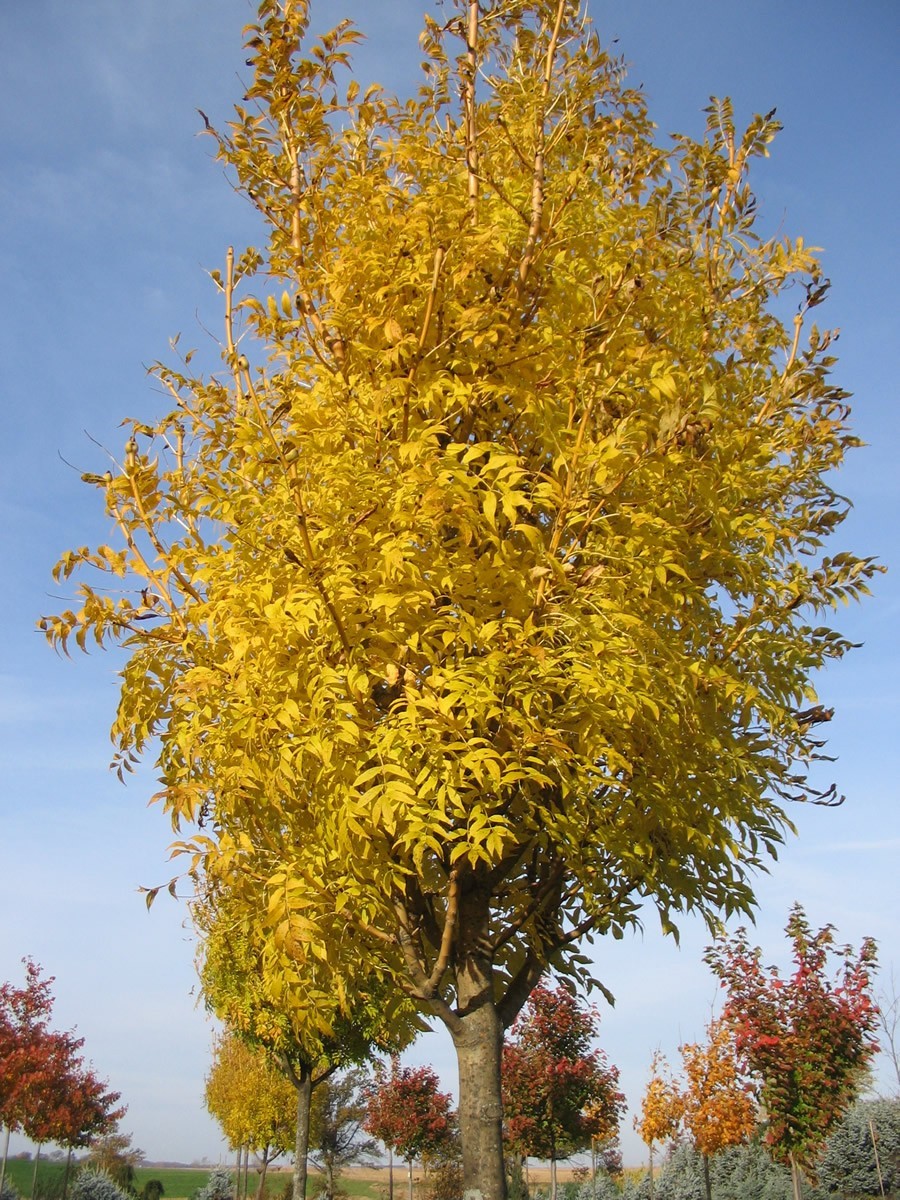 Golden Ash
This tree is a favourite in most large yards. It's hardy enough to withstand the summer sun and provides ideal shade. It grows at a rate of 45cm a year and once established can withstand periods of drought. It grows to around 5-12m. The leaves remain golden yellow, turning into a display of gold in the autumn. Ideal for large yards, the Golden Ash needs little attention and provides a haven of cool shade even in the hottest of summers.
Native Daphne (Pittosporum undulatum)      
This tree is native to Australia and is a useful addition to any yard. It's quite small compared to other shade trees and dense, spreading its branches quite wide, reaching around 12m and spreading to 7m. When in blossom the tree displays fragrant white flowers, giving way to orange berries in the autumn, lasting even into the winter months. This is a rapid growing tree and can become invasive but its wonderful fragrance is well worth keeping on top of this problem.
Tulipwood (Harpullia pendula)
This is a hardy evergreen which is ideal for small yards. A tough addition to your garden, it is able to withstand the harshest sun. It grows to around 10m. Its main characteristic is its dense foliage and red fruit which adds a startling abundance of colour to your garden. The Native Daphne is popular as an urban tree as it thrives even in the city. If planted strategically, this fast growing shade tree adds contour and a sense of design to your yard, providing dense shade in the hot summer months.
Tree Maintenance
When designing your yard for fast growing shade trees, remember that some trees grow very tall. It is worth spending a few dollars occasionally to get your trees lopped. Whilst some experts believe that lopping is not necessary, if you have a small to average yard, your trees may overhand neighbouring garden or cause problems to nearby structures. Getting an expert to lop your trees can, in many instances, improve the condition of the tree. So go ahead transform your yard and beat that summer heat.